Belgian researchers - Oceans
André Luc


Professor, Dr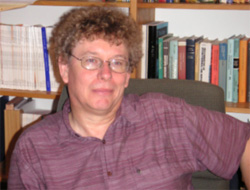 All Luc André's research field of interest concerns geochemistry applied to solve questions related to magmatic, metamorphic, sedimentary and biogeochemical processes. His main concerns were:
Since 2000: silicon cycle
Use of silicon isotopes as tracer of biogeochemical processes in central Africa: Lake Tanganyika (CLIMLAKE), phytoliths and soils (Banana) and Congo River
Silicon isotopes as tracer of relative Si utilisation in the Southern Ocean (BELCANTO, EUR-OCEANS) and Lake Baïkal (CONTINENT),
Silicon isotopes as tracers of quartz-rich rocks forming processes, including prospects concerning the development of early life on Earth.
Testing Si isotopes as a potential biomarker in astrobiology as part of the Belgian Federal Center for Complexity and Exobiology.
Since 1997: Quantitative in situ micro-analyses of minor and trace elements in biogenic calcite and aragonite as tracers of environmental changes.
Since 1995: Barite as a tracer of carbon remineralisation in the Southern Ocean (BELCANTO, EUR-OCEANS), Atlantic and Indian oceans.
Since 1986: Geochemical and isotopic constraints on the origin of the African Alkaline magmatism (Lybia, Tanzania, RDC) with special emphasis on the relation between the nephelinic and carbonatite magmatisms.
1993-2005: Geochemical constraints on the evolution of the lithospheric mantle (Lesotho and Siberia) and deep (eclogitic and high-pressure grnulitic facies in Kasaï, RDC) to ultradeep (Diamond-bearing rocks from Kokchetav, Siberia) metamorphism.
1984-1998: Validation of trace element and isotopic (Nd isotopes) tracers as indexes of sediment provenance with special emphasis on oceanic and continental Palaeozoic shales rocks.
1976-1993: Identification of geochemical and isotopic tracer to infer the source and the age of hydrothermally altered magmatic rocks: implications on the Caledonian evolution of Western Europe and the Precambrian evolution of central Africa.
Aside his current function as Head of Section (Research Director) of Mineralogy-Petrography and Geochemistry at the "Musée Royal de l'Afrique centrale (MRAC)", he is also:
Professor at the «Université Libre de Bruxelle» (ULB)
Co-director of VUB-MRAC center for ICP-AES, ICP-MS, LA-ICP-MS, HR-ICP-MS analyses,
website
Promotor of several Belgian research networks (BELCANTO I and II, CALMARS, CLIMLAKE, principal investigator of European research networks (CONTINENT, network of excellence EUR-OCEANS), principal investigator of international (GEOTRACES) research networks
Scientific collaborator of the «Université de Liège»
Titularian member of the Royal Academy for Overseas Sciences.
Activities
Research programme:

SPSD I : Antarctica IV (Marine Biota and Global Change)
SPSD II : Antarctica V (Global change, Ecosystems and Biodiversity)
SD : Antarctica IV (Climate change and Biodiversity)
Sixth European Framework Programme (Sustainable Development Global Change and Ecosystems

Research projects:
Related activities: -
List of publications
Peer-reviewed articles
Cardinal D., F. Dehairs, T. Cattaldo & L. André (2001) Geochemistry of suspended particles in the Subantarctic and Polar Front Zones south of Australia: Constraints on export and advection processes. Journal of Geophysical Research, 106: 31,637-31,656.
website
Cardinal D., L.Y. Alleman, J. De Jong, K. Ziegler & L. André (2003) Isotopic composition of silicon measured by multicollector plasma source mass spectrometry in dry plasma mode. Journal of Analytical Atomic Spectrometry, 18: 213-218.
website
Cardinal D., N. Savoye, T.W. Trull, L. André, E.E. Kopczynska & F. Dehairs (2005) Variations of carbon remineralisation in the Southern Ocean illustrated by the Baxs proxy. Deep-Sea Research Part I, 52: 355-370.
website
Cardinal D., L.Y. Alleman, F. Dehairs, N. Savoye, T.W. Trull & L. André (2005) Relevance of silicon isotopes to Si-nutrient utilization and Si source assessment in Antarctic waters. Global Biogeochemical Cycles, 19: GB2007 .
website
Fagel N., F. Dehairs, L. André, G. Bareille & C. Monnin (2002) Ba distribution in surface Southern Ocean sediments and export production estimates. Paleoceanography, 17, 1011.
website
Reports
Dehairs F. et al. (2003) An integrated approach to assess carbon dynamics in the Southern Ocean. In: S. Cashetto (Ed.), Scientific results of the Belgian Scientific Research Programme on the Antarctic - Phase 4 (1997-2001): Vol. I: Marine Biota and Global Change, 135pp.
Wollast R., J.-P. Vanderborght et al. (2005) The role of the ocean in global change. In : G. den Ouden and M. Vanderstraeten (Eds.), Belgian global change research 1990-2002: Assessment and integration report, 111-134.
website
Complementary resources
Contact
André Luc
Faculté des Sciences
Centre de Recherches Archéologiques (CReA)
Isotopes, pétrologie et environnement (IPE)
Campus du Solbosch
ULB CP160/02
avenue F.D. Roosevelt 50 - 1050 Bruxelles
landre@ulb.ac.be
Phone: +32 2 650 22 46