Belgian researchers - Oceans
Beans Cristina


PhD researcher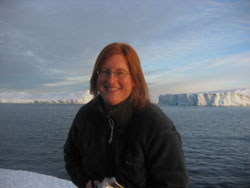 Activities
Cristina Beans is currently working towards obtaining her PhD in Oceanography at the University of Liège. The main objectives of her thesis are to study the diversity of the microplankton present in the coastal Antarctic waters, in particular the region between the Astrolabe and Mertz Glaciers in East Antarctica, as well as the factors contributing to their distribution and abundance (such as physico-chemical water conditions or presence of predators). Samples for this work were obtained in January - February of 2004 and 2005 during oceanographic campaigns onboard the RV Astrolabe in Terre Adélie, while working in close collaboration with the French ICOTA Programme (Ichthyologie Côtière en Terre Adélie, Prof. Philippe Koubbi from the Université du Littoral-Côte d'Opale).
Research group
Complementary resources
Cristina postulated to become a BYSC member.
Contact
Beans Cristina
Université de Liège
ISLV - Département de langues étrangères
BAT. B6 Océanologie
allée de la Chimie, 3 - 4000 Liège 1
C.Beans@ulg.ac.be
Phone: +32 4 366 37 40 - Fax : +32 4 366 33 25