Belgian researchers - Oceans
Fripiat François


Ph.D. student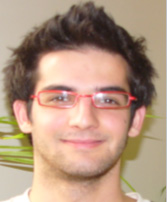 Si-biogeochemical cycle in the Southern Ocean and Antarctic Sea-ice by using the Si-isotopes (seasonally relative dissolved silicon utilization by diatoms and dynamic of the dissolved silicon pool (source, mixing, dissolution, utilization), and Si uptake and dissolution rates by diatoms)
Education
Since 2006 Ph.D. in Sciences (isotopic biogeochemistry), Université Libre de Bruxelles & Royal Museum for Central Africa.
2001- 2005 M. Sc. and B.Sc. in geological sciences (Université Libre de Bruxelles). Specialization: Geochemistry and Biogeochemistry.
Activities
Research programme:

SPSDIII : Antarctica VI (Climate change and Biodiversity)

Research projects:
Related activities: -
List of publications
Peer-reviewed articles
Fripiat F., Cardinal D., Tison J.-L. & André L.. Diatoms-induced Si-isotopic fractionation in Antarctic Sea-ice. Accepted in Journal of Geophysical Research-Biogeosciences.
Cardinal D., Savoye N., Trull T.W., Dehairs F., Kopcynska E., Fripiat F., Tison J.-L. & André L.. Silicon isotopes in spring Southern Ocean diatoms: large zonal changes despite homogeneity among size fractions. In press in Marine Chemistry

Contact
Fripiat François
Faculté des Sciences
Campus de la Plaine
ULB CP221
boulevard du Triomphe - 1050 Bruxelles