Belgian researchers - Cryosphere
Verbeke Véronique


PhD researcher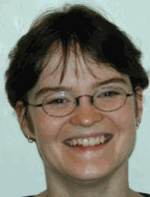 Certificates
1999 - 2001 : DEA ("Diplôme d'Etudes Approfondies") in Science at the Université Libre de Bruxelles (U.L.B.)
1998 - 1999 : Teacher training certificate ("Agrégation de l'Enseignement secondaire superieur") at the Université Libre de Bruxelles (U.L.B.).
1995 - 1999 : Geographical Science Degree (equivalent of Master) in the Université Libre de Bruxelles, completed with the highest grade ('La Plus Grande Distinction').
Final year project carried out in the laboratory of Glaciology at the U.L.B. (Department of Earth Science and Environment), with the "Study of the 3-D chlorinity/salinity distribution patterns in experimental granular sea ice" as subject.
Other formations
2000 : Scientific English (Institut des Langues Vivantes et de Phonétique – U.L.B. – 30h)
1999 : European Red Cross Practical First Aid Certificate ("Brevet Européen de Premiers Secours" – Belgian Red Cross)
Career
Since 1st October 1999: Assistant at the Department of Geography, Université Libre de Bruxelles.
Ph.D. ("Doctorat") in the laboratory of Glaciology at the U.L.B., with the "Gas properties and trace elements in Antarctic sea ice" as subject.
Activities
Research programme:
Research group: Glaciology lab-ULB
Research projects:

AMICS - Antarctic ice-sheet dynamics and climatic change: modelling and ice composition study
INTERICE - Inter disciplinary Ice tank Experiment
SIBClim - Sea Ice Biogeochemistry in a CLimate change perspective
Related activities
Field experience
January 2003:16 days in the McMurdo Sound (Scott Base - Antarctica) for sea ice coring.
May 2001: 7 days in Hamburg (Germany) for the "Interice III" European project. Study of sea ice growth processes and properties in experimental ship basin: relationship with biological processes, in collaboration with the Alfred Wegener Institute für Meeresche und Polarforschüng (Germany), University of Bangor (Wales) and HSVA (Hamburg Ship Model Basin).
January 2000: 8 days in the Dry valleys (Terra Victoria - Antarctica) for lake ice coring, with glaciologists from New Zealand (Dunedin University)
August 1999: 4 days on the Glacier de Tsanfleuron (Switzerland) for testing ice coring material
August 1998: two weeks on the Haut glacier d'Arolla (Switzerland) as field training assistant, with glaciologists from the universities of Aberystwith, Cambridge and Glasgow.
Symposia
19-23 august 2001 : International glaciological society symposium "Ice cores and Climate" held in Kangerlussuaq (Greenland) : oral presentation : "New insight on the deformation history of basal ice from the Dye 3 core, Greenland".
19-23 June 2000: International Glaciological Society Symposium "Sea ice and its interactions with the ocean, atmosphere and biosphere" held in Fairbanks (Alaska) : presentation of a poster based on my final year project.
List of publications
Contact
Verbeke Véronique
Glaciology Lab
Campus du Solbosch
ULB CP160/03
avenue F.D. Roosevelt 50 - 1050 Bruxelles
vverbeke@ulb.ac.be
Phone +32-2-650.22.14 - Fax +32-2-650.22.26