Copernicus is an ambitious earth observation programme based on satellite data and data from Earth. Its goal is to provide Europe with an independent operational information system in the field of environment, climate and civil security. In order to provide answers to issues of climate change, food shortages, air pollution, natural disasters, energy crisis, strong population growth, ... having the right information is essential and this is where Copernicus plays a role!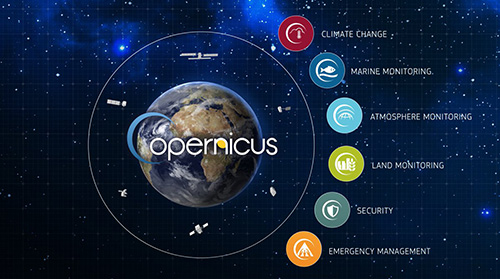 The Programme is led by the European Commission (EC) on behalf of the European Union and is implemented in partnership with the Member States, the European Space Agency (ESA), the European Organisation for the Exploitation of Meteorological Satellites (EUMETSAT), the European Centre for Medium-Range Weather Forecasts (ECMWF), EU agencies and Mercator Océan

.
Copernicus includes 3 major components:
Copernicus information services
By using satellite data, Copernicus is able to provide information services to government agencies, service providers and organizations to help improve the quality of life of European citizens.
The information services are divided into 6 portfolios:
Land
Atmosphere
Marine
Climate change
Emergency
Security
Space component
In order to provide the Copernicus services with the necessary data, a series of specific satellites are being developed by ESA. These consist of different types of satellites, each of which generates its own type of Earth observation data. The first generation of Copernicus satellites are called the Sentinels. The first one was launched in 2014. From each of the different types of Sentinels, several satellites are being built in order to sufficiently cover the earth and to continue to guarantee reliable information for the services over time. The satellites are developed  in the Copernicus Space Component program of ESAand are financed by the ESA member states and the EC. The operation of the sentinels is done by ESA and EUMETSAT
Because the Sentinels cannot provide all the required information for the different services, new additional Copernicus missions are developed by ESA. In addition to data from the current Sentinel satellites Copernicus Contributing Missions also provide additional data to meet the observation needs of the services. An example of such a contributing mission is PROBA-V.
In-situ component 
This component is essential to guarantee the quality of the Copernicus services. It uses existing measurement infrastructures on Earth (ground, sea or airborne sensors) to obtain observation data that can assist in the calibration and validation of the satellite data and the results of Copernicus.
The enormous amount of Copernicus data (satellite and services) is open and free accessible to everyone. This should facilitate the use of the data as much as possible as well as the development of value-added applications and services by private companies. This makes Copernicus a tool for economic development and an engine of the digital economy.
In order to make the Sentinel data available to Belgian users, a Belgian Copernicus Collaborative Ground Segment, Terrascope, has been set up and is freely accessible to everyone.